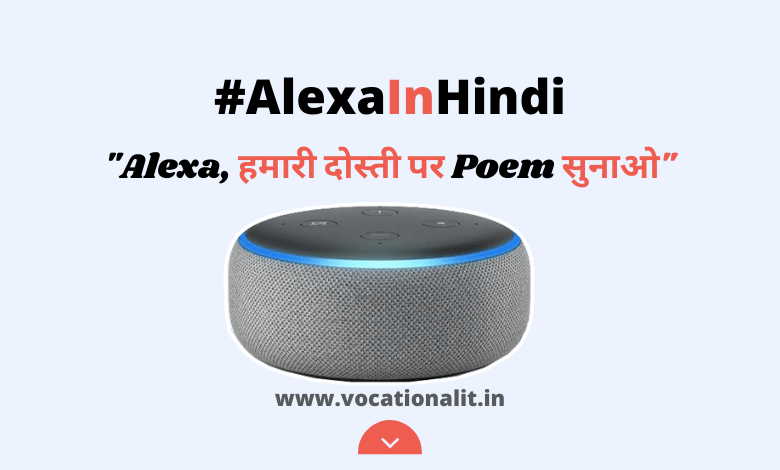 Alexa :- Talk In Hindi
Alexa, Now talk in Hindi.
Amazon developed a new Audio device named as "ALEXA". Alexa developed for our entertainment. It has new AI technology. You can search anything with the help of Alexa. When Alexa newly launched, she responded in English, Japanese, Spanish, German etc. but now she will respond in Hindi as well.
Alexa is a speaker, you can listen music, ask anything to Alexa in Hindi. She will respond back to you in Hindi as well. Alexa is a voice controlled device which will answer you back when you say Alexa.
Alexa connected with Wi-fi connection to the Amazon cloud. When you will give the command to Alexa then she will search that in Amazon cloud and respond back to you in your preferred language.
Alexa will help you in making list, set alarm and give information about sports, traffic, weather, news etc.. She is also able to control your mobiles like you can give command to her to call someone or send a text message. You can also play games with Alexa and do many more interesting things.
If you want to use Alexa and want the support of Hindi language then first you have to download Alexa app in you mobile and make sure that it is connected with activated amazon account. After that set your primary language Hindi. Now you can give command to Alexa in Hindi.
Amazon is planning to introduce Alexa for Households in multilingual. This will help the users to easily change the language according to their interest every time. In the Future, Alexa will come with some new technologies and advance features. You can easily buy the Alexa device from the Amazon store.